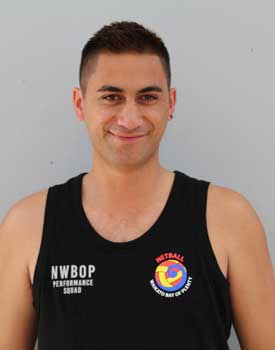 William Kopa
I am from Eastern Waikato Netball Centre. I started umpiring mid 2017 so I haven't been umpiring for long but I don't regret becoming a umpire either. I first attended a umpire workshop for new umpires, about a week later gained my Centre theory qualification and attended 2017 Anchor AIMs Games where I was awarded my Centre award. 2018 has been an incredible season, achieving my Zone theory, Zone award and New Zealand theory umpire qualifications all in one year. I have had many lovely umpire coaches who have helped me along the way and I would like to thank all for your time and efforts in helping to develop me. I love the challenge both mentally and physically while umpiring, but also the adrenaline of just being able to officiate and contribute positively to a netball game. I have learnt so much in such a short time, and cannot wait to see what 2019 netball season brings in the new year.
Highlights so far in my umpiring career:
Attending 2018 North Island Championships U15 A/G. Appointed to umpire A Grade Semi Final and A Grade Final.
Attended 2018 WBOP Zone Secondary School Open Grade Year 10 Tournament. Appointed to umpire Year 10 Final.
Attended 2018 Hamilton City Thursday Night Outdoor Open Grade competition. Appointed to umpire A Grade Final.
Attended 2018 Hamilton City Montana Catering Secondary Schools competition. Appointed to umpire Development Final.
Attended Combined Points (pre UNISS day tournament). Appointed to umpire Premier Final.
Attended UNISS as tournament umpire.
Attended 2018 Anchor AIMs Games. Appointed to umpire 3rd vs 4th in A Grade. A Grade Semi Final and reserve umpire for A Grade Final.
Attended 2018 Netball Waikato Bay Of Plenty Awards, named as a finalist for the Gallagher Centre umpire of the year and winner of this trophy.
Awarded Eastern Waikato Centre Umpire of the year trophy.
Attending 2018 Waikato district sports awards as a nominee for official of the year. Winner will be announced at awards on 21st of November 2018.
It is a pleasure to be a part of the Waikato Bay of plenty Level 1 performance umpire squad for 2018-2019. I will continue working hard to reaching my full potential as a umpire.