ANZC 2015-16
Danielle Maulder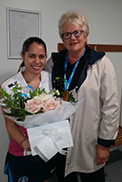 Dani talks to the ZUDO about her umpiring

This is your second year umpiring the ANZC so what is different this year?
I am so fortunate to be able to officiate one of the best netball leagues in the world, week in and week out. Each game brings something different, so learning & reflecting on these aspects aids my growth & development as an umpire. Having the continuity of game appointments each week, has helped me to build my confidence, my skills and my knowledge of the game.

What are you noticing about the impact the new rules are having on the game this year?
The new rules have had a positive impact on the game thus far. Now that the non-offending team has the ability to play the ball quickly or wait for the penalised player to stand out of play, this has sped up play & the game is so much quicker. I have found that this has improved my vision & the speed of my decision making. With injury time being a 30 second straight swap, players are a lot less willing to call time & we don't have many breaks during the game. The Game Management section of the rule book is clear cut, giving specific guidelines around what behaviours will be and will not be acceptable, aiming to enhance the game & allowing players to showcase their skills in a safe environment.

Between ANZC games what do you do to recover, reflect on your game, train and to prepare for your next game?
ANZ games are usually on a Saturday, Sunday or Monday. I work as a full time pharmacist so my first priority is to ensure I have organised a locum to cover me for the days I am committed to ANZ. Sometimes I struggle with the travel, the late nights & the early mornings, so I make a conscious effort to get an early night the night after my game. A recovery pool session & a massage will usually happen within 1-2 days when I arrive back home. Critical analysis of each game is crucial, which involves watching my game & writing a game report within 3 days following my game. We receive a report from the ANZ Panel who was at our game, within 2 days of our game. We will both outline my strengths, my work ons & any critical errors that were made. These points will be a platform for what I want to achieve moving into my next game. Evidence of growth from week to week is so important for consistency and confidence in my abilities as an umpire.


Thinking back to when you first started umpiring, knowing what you know now what would be your note to 16 old self?
When I first started umpiring as a 15 year old school girl, I never would have thought in a million years I would make it to where I am today, nor did I know that 'this' existed. I began umpiring with my Mum, as a buddy and as a means of giving me something to do on a Saturday. Umpiring can take you around the world, enable some of the best friendships to be made and force you to learn about how resilient, hard working & dedicated a person can be.

In conclusion Make the most of your opportunities and work your butt off 24/7 to get to where you want to be! Potential is limitless :) Surround yourself with people who believe in you & will do anything to see you succeed.
My umpiring began in Hastings as part of a Mum/daughter duo in 2003 when I was 15, due to a knee injury. I gained my Regional Badge in 2006 when I was Year 13, before leaving for university. In 2007, I moved to Dunedin to study pharmacy at the University of Otago. In 2008, my umpiring gained momentum achieving my NZC badge in Dunedin, my NZB badge at NZSS (NZ Secondary Schools) & secured a spot in the NZ Development Squad for 1 year. I then made the NZ A Squad in 2009, retaining a place in this squad until 2014. After graduating, I moved back to Hawke's Bay for my 2011 year, to complete my pharmacy internship at the Hawkes Bay Hospital. At the 2011 LFNC (Lion Foundation Netball Championships) in Porirua, I gained my NZA badge. After moving to Tokoroa in 2012, I umpired the Super 12, Hamilton City & Lion Foundation netball Championship finals & attended my first International Appointment, the Samoa vs Scotland test series in October. I am currently an ITID (International Talent ID) umpire with aspirations to gain my IUA (International Umpire Award) in the very near future. LFNC has been a regular annual competition I have attended from 2009-2014. I was in the ANZ Reserve Squad in 2012 - 2014, then the ANZ Squad in 2015, making a memorable ANZ debut with the Mystics vs Tactix in April 2013, going into double overtime. International appointments to date have included: Pacific Netball Series, Samoa (June 2013); World Youth Netball Championships, Glasgow, Scotland (August 2013); Cook Islands vs Singapore Test Series (November 2013); Pacific Games, Port Moresby, Papua New Guinea (July 2015).
Click here to read more on Danielle's appointment for the World Youth Netball Championshoips
Level 3 NWBOP Performance Squad
Ceri Hills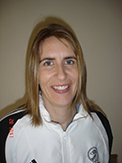 I begun my netball in the Manawatu playing premier netball and representing the region at U17 and U19. I umpired each week as the "volunteer" for our club team. After moving to the Waikato I played for several more years and gained my centre and regional awards before stopping playing in 2002. I joined the Te Awamutu Centre umpiring team in 2003.
I was awarded my NZ C qualification in 2006 and in between having children and was appointed to my 1st national event in 2009 – NNZ Secondary Schools. 2010 I was appointed to U21/U19 age-group champs in Dunedin and was awarded by NZ B qualification and appointed to the U19 final. I also was appointed to the U19 final in 2011 at the same event. 2012 I again attended age groups and was appointed to the U21 3rd vs 4th final. 2013 I attended NPC – Lion Foundation Netball Champs and in 2014 I returned to the NZ Secondary Schools nationals where I umpired the final.
At Netball NZ level I have been a member of the Emerging Talent Squad for two seasons. Regionally I have umpired various competitions including the Te Awamutu and Hamilton City finals in 2014 and Super 14 competition finals in 2013 and 2015. 2014 also saw my endorsement for my NZ B qualification. Ceri has been appointed to Umpire at the NNZ Under 19 Event in July 2016
Ashlee Numa
I started to get a taste of the whistle during my high school years. Towards the end of the 2011 Netball season, I gained my Regional Badge. 2012, my final year at school, I was appointed to the NZAG U17 Champs and then went on to umpire the UNISS B Grade final later on in the season. 2013 was a busy year, I was accepted in the University of Waikato, i was awarded my NZC Award , appointed to the NZAG U17 Champs for the second time where I also umpired the final, I was appointed to the UNISS A Grade final and was then appointed to the NZSS (New Zealand Secondary School) Champs, where I umpired 3 vs. 4 and was awarded my NZB Award. At the end of the season I was named in the Umpire Emerging Talent Squad for 2014 and have remained in the squad for 2015. I was appointed to NZSS once again in 2014 but unfortunately had to withdraw due to injury. Earlier this year, I was fortunate enough to be appointed to the NZAG U17 Tournament once again, where I umpired the final. Ashlee has been appointed to Umpire at the NNZ Under 19 Event in July 2016
Level 2 NWBOP Performance Squad
Stacey Hovens

Darne Rawiri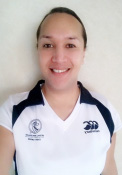 After playing netball through primary to high school, I rekindled my passion for the game, playing for Melville in 2001.

I first picked up a whistle to umpire for our team as no one else wanted to and my confidence bloomed from there onwards.

After seriously considering my direction in the sport that I love so much, I decided to step away from playing and put my umpiring first.

Gaining my NZC badge in 2014 and assisting our up and coming umpires for our Hamilton Netball Centre has helped me immensely in working towards my own goals. Some highlights so far are;
North Island Under 15's in 2014
UNISS – Waitakere 2014
Under 17's Nationals – Mount Maunganui 2015
UNISS – Hamilton 2015


Amanda Thompson

I first took up the whistle in my final year of college, after someone made the suggestion to give it a go and I have been umpiring ever since. I have now been umpiring at a New Zealand age group level for the past five years. First attending New Zealand U17's in Wellington in 2010, since then I have attended New Zealand Secondary Schools and New Zealand U19 and U23 age group championships. When I don't have a whistle in my hand I work as a media and events coordinator for the Bay of Plenty Rugby Union
Pania Tomoana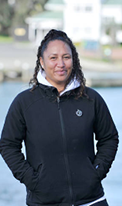 2016 - Selected in the inaugural 2016 Netball Waikato Bay of Plenty (NWBOP) Performance Umpire Squad Level 2.
2015 - Attended the U17 age group regional tournaments May-July and attended the NZAG U17 in Tauranga she achieved her NZC BADGE.
In August of the same year Pania umpired her first premier final at home in Gisborne.
2013, 2014, 2015 - Attended as a umpire to Aotearoa Maori Netball.

2014 - Zone badge

2012 - Centre badge
Level 1 NWBOP Performance Squad
Cheyenne Clarkin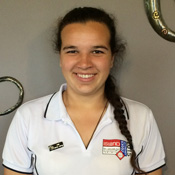 In 2012 I began umpiring in Paeroa where I passed my centre theory. In 2013 I was a volunteer umpire as my mum thought that it would be a good idea to give back to the centre. In 2014 I umpired for the Paeroa representative team, from there I gained my centre practical and sat the zone theory where I was unsuccessful by a few marks. I also went the AIMS Games which was an amazing experience. 2015 has been an eventful year as I passed my zone theory, I was picked to umpire the Thames Valley under 15's in Taranaki. After that I umpired the Thames valley Friday night League and also went to UNISS where I gained my zone badge. the following week I attended AIMS Games again where I was appointed to the A grade Final.
Te Kaweora Enoka-Barton
Tiana Thompson